Hi Everyone,
Today our conversation was about outdoor spaces and natural places. We began with a list of all the possible outdoor spaces we could think of including parks, forests, mountains, oceans, beaches, deserts, farms, and lots more. Than we talked about how these spaces effected us, how did we feel when we are in these spaces – relaxed, calm, quiet, tranquil, happy, thoughtful, and sometimes when you all alone and get lost you can feel scared!
We were lucky today to visit the Map Center at the library and get a guided tour of the current exhibit , Breathing Room: Mapping Boston's Green Spaces.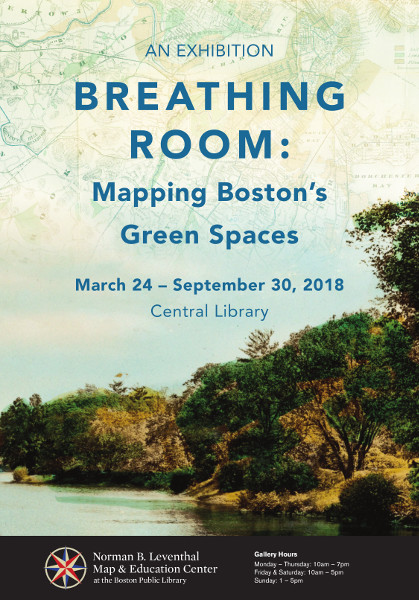 This exhibit is a collection of maps and pictures over the last three decades showing the green spaces and parks, playgrounds, and rivers and reservoirs throughout Boston and neighboring areas.
Our guide was Lynn Brown,Education Coordinator at the Map Center, who gave us lots of information about the exhibit and answered all our questions about the landscapes and designs and plans we looked at. Each of us looked at these maps and pictures and decided which one was our favorite and why, and what was significant about it. Then 5 volunteers in our group described their favorite to us. You did a great job! To go back and review the exhibit or check out something just click here.
We didn't have much time left but we talked about some of the places in Boston that might be fun to visit (click on any one of these and it will link you to their website for more information and directions, etc.) Arnold Arboretum, Rose Kennedy Greenway, Franklin Park, Jamaica Pond, Chestnut Hill Reservation,  and Castle Island. 
Also, don't forget our beautiful outdoor spaces right here in the city – The Boston Common, the Public Gardens, and the walkway along the Charles River. In most of our neighborhoods 
there are lovely green spaces for you to enjoy the fresh air and relax.
While we are on the subject of outdoor spaces and nature we talked about one natural element in our oceans, that we often forget about because they are so far away from us. Glaciers and icebergs have been severely impacted over the last few years with an increasing rate of ice melt which impacts our sea life, our coast lines and us.
This is a photo of a glacier taken by Camille Seaman who has been photographing glaciers for the last decade. She has a very strong attachment to glaciers, and views them like family members that take on many human characteristics. Take another look at her passionate talk about her work, and enjoy her beautiful photos. And finally, watch for the surprise at the end of the video: 
Camille's philosophy is that we coexist with nature and through her photography we can see the fragility and treasures of our Earth!
Remember to relax and practice!